What is the most common veterinary surgery? If you have a beloved pet, chances are at some point you will be faced with the difficult decision of whether or not to get your pet surgery.
But what is the most common type of veterinary surgery?
Veterinary surgeries play an important role in keeping our pets healthy and happy.
From removing bladder stones to repairing knee injuries, there are a variety of medical procedures that veterinarians perform each day.
But among those numerous operations, which one is the most performed? To help Pet Owners better understand this critical aspect of their companion's health and well-being, we decided to investigate the most commonly seen veterinary procedure.
We look at what it is, why it's done, and how to ensure your pet remains healthy and comfortable during the healing process.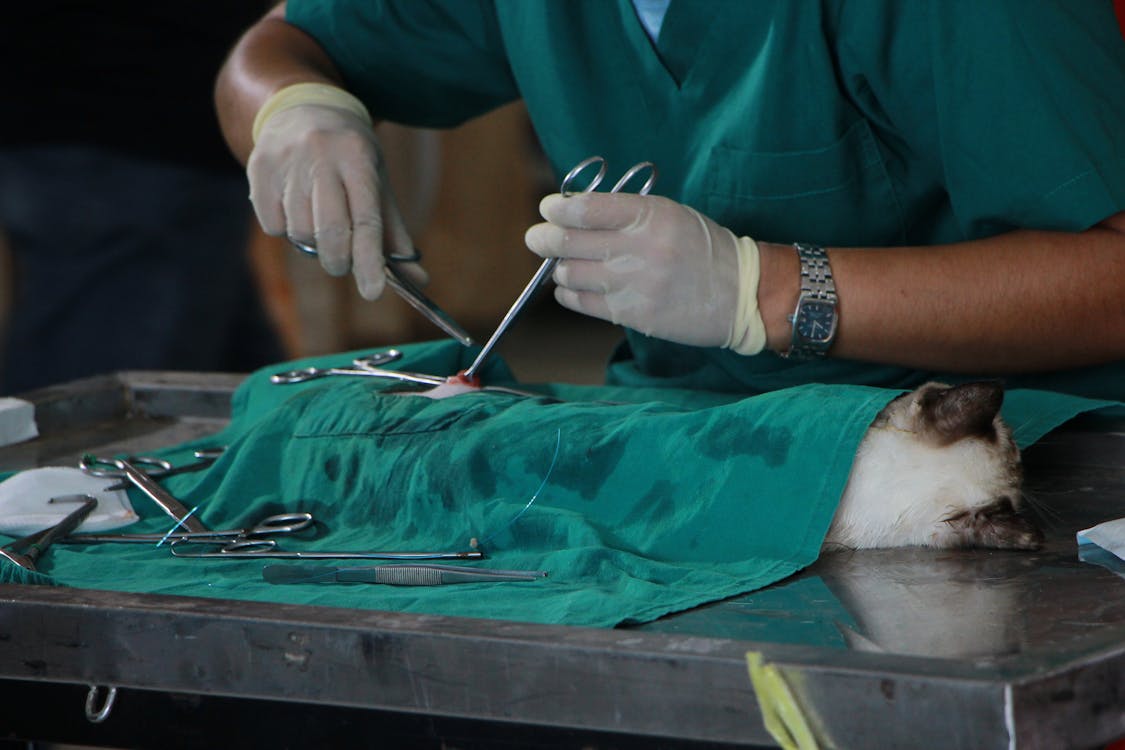 What is the Most Common Veterinary Surgery?
Veterinary surgery is one of the most important services a veterinarian can provide, as it encompasses not only treating current medical issues but also preventing future ones from occurring.
It's an essential healthcare service and knowing some of the most common veterinary surgeries gives pet owners a greater understanding of what their veterinarians may need to do in order to keep their animals healthy.
Spay/Neuter Surgery
The spaying or neutering process involves surgically removing the ovaries and uterus in females, and testicles in males, respectively.
This reduces the risk of cancers associated with reproductive organs, and lowers the chance of animals falling victim to behavioral problems like roaming or aggression if they are undesexed.
Cruciate Ligament Repair
The Cruciate ligaments are located within the knee joint and can be torn due to injury or disease.
If these ligaments become ruptured, it could cause pain or lameness and make walking difficult for your pet.
Veterinary surgery is necessary to repair them by tightening up the knee joint capsule so that it is able to function properly once again.
Gastrointestinal Foreign Bodies
Gastrointestinal blockages occur when a foreign body becomes lodged inside an animal's intestines or stomach – often items such as rubber balls or toys which can cause serious health complications if left untreated.
In these cases, veterinary surgery is usually required in order to remove these objects from the pet's digestive tract before any further damage occurs.
Cystotomy (Bladder Stones)
Bladder stones occur when crystals form within an animal's bladder and cause discomfort such as straining while urinating, blood in urine, increased urinary frequency and painful urination.
Veterinary surgery may be necessary to remove these stones if they are too large or cannot be dissolved with medication.
Soft Tissue Surgeries
Soft tissue surgery includes procedures performed on various parts of an animal's body that have been affected by trauma (such as lacerations) or diseases (such as cancer).
These surgeries involve removing infected tissue that has been damaged by infection or illness, repairing bones that have been fractured by trauma and reconstructing organs that have been weakened due to disease processes with grafts from other parts of an animal's body .
No matter what type of surgical procedure your pet needs, it pays off to know what's involved so you can provide them with the best possible care before investing into veterinary surgery for your beloved companion animal!
Conclusion
The most common veterinary surgery is spaying or neutering your pet.
This procedure can help keep your pet healthy and also reduce their risk of developing certain types of cancer.
Not only that, but it can help manage the population of stray animals in your area as well.
In addition to spaying or neutering, there are a number of other surgical procedures that veterinarians can perform on pets to keep them in top shape.
It's important to discuss any potential risks and benefits with your veterinarian before deciding to proceed with any type of surgery for your pet.